A.S.I. Alternative Break Service Learning Projects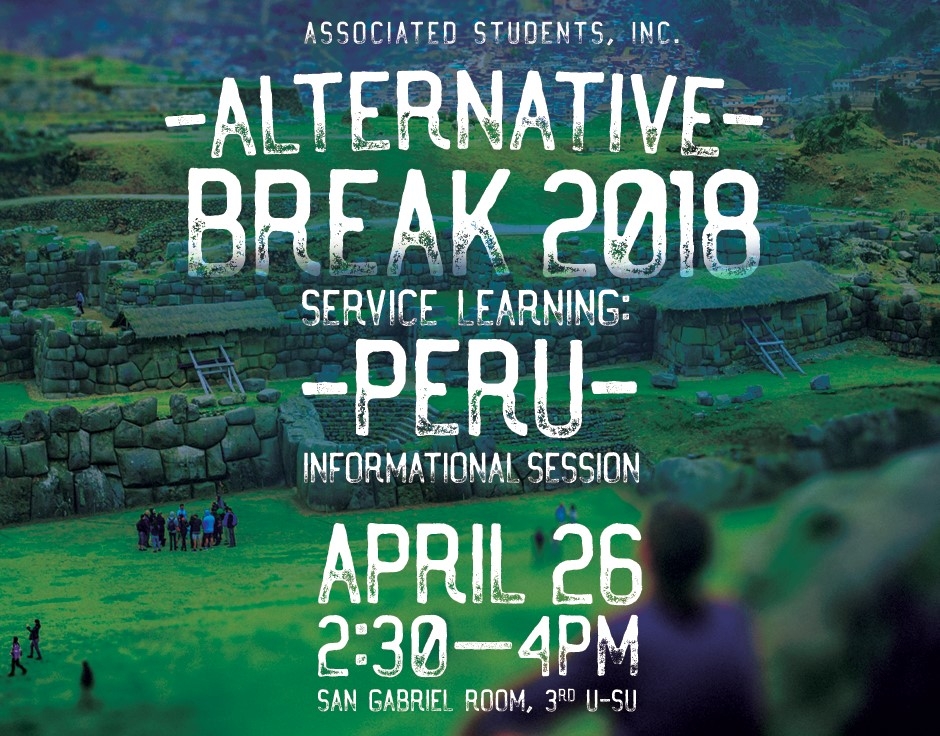 Wednesday, April 26, 2017 - 2:30 to 4:00pm
San Gabriel Room 313, University-Student Union
In partnership with EF Tours, A.S.I. is excited to offer you an amazing opportunity to travel with us on the Alternative Break Service Learning Trip to Peru in May/June 2018. We will explore Peru while completing service learning projects throughout our 10 day excursion and are looking for enthusiastic students to become global citizens for change. During the informational we will review the application process, itinerary, and pricing. This service trip is only open to current Cal State LA students. For more information, contact Ashley Josephy at
Learning Outcomes
Learn to access humanitarian values (e.g. using social justice rhetoric, understanding personal and social responsibility, and serving as positive social change agents)
Explore the dimensions of difference in communities
Engage with the local Los Angeles community in appreciation of civic duty
Gain knowledge of a new culture and the natural world

Students will be immersed in Cuban culture through a truly educational experience. In Havana, Cuba's capital city, participants will discuss the region's conservation efforts, educational resources and national identity with locals. Next, they will journey east to Cienfuegos and discover Cuba's culture firsthand with a trip to an art studio as well as music and dance performances.
Monthly Themes and Special Events
November 18
Participants will sign-up for a topic to present on (see below). Students will be asked to create a "Citizen in the Community" newsletter that showcases their dream service project, current volunteer experiences, Cal State LA-specific improvement opportunities, and their ideal community culture. The group will be encouraged to connect these pieces to the concepts of social inequality, financial stability, and global citizenship. Participants should also include thoughts about the purpose of service learning and need for global engagement. Students are encouraged to be creative in terms of format, visuals, and overall presentation. Newsletters will be shared at the January 21 meeting.
November 18
Group fundraiser at Dog Haus, 410 E Main St, Alhambra, CA 91801. Alternative Break participants will receive a percentage of sales during regular happy hour. Invite your friends and family!
January 21
Community Service Project with ASI and Heal The Bay. For details and registration instructions, contact Cinnamon Thompson at . Lunch and transportation provided.
January 27
"Citizen in the Community" newsletter presentations. Participants will also discuss service opportunities on-campus and in the Greater Los Angeles area. Remember, each participant is required to complete 7 hours of community service between November 18 and May 24. The group will also discuss service needs in Cuba and sign their travel documents.
February 24
Participants will discuss The History of Cuba and report on their "Service in the City" efforts. Students will be provided information on trip spending and transaction caveats.
April 28
Participants will discuss The Afro Cuban Experience and report on their "Service in the City" efforts.
May 5
Participants will discuss Cuban Culture and Tradition and will prepare for departure. The group will also report on their "Service in the City" efforts.
June 9
The Aftermath: What Now? Trip participants will dialogue about how to integrate service learning into their student experience and personal, possibly professional, expectations.
Excursion Journals
Each evening during the trip, students are encouraged to journal utilizing the prompts below.
Journal Entry #1
Using all four of your senses (taste, touch, sight, hearing), describe your first day in Cuba.
Journal Entry #2
Throughout the day, we have connected with both people and places. List six words that describe today's interactions/experiences. How are these six words interconnected?
Journal Entry #3
Reflect on a recent service day. Pretend that you were a "fly on the wall" watching, but not participating, in the activity. Write a short descriptive passage based on your observations.
Journal Entry #4
Write a letter to yourself. Reflect on the months of preparation for your trip to Cuba, discussions, conversations, and past journal entries. Think about your interactions with communities in Cuba and what you hope to bring back. Include the following:
What was your initial perception of Cuba and how do you feel today?
What was positive about traveling to serve in Cuba?
What messages or ideas will you take back to your local community?
Is there a special project you'd like to implement back home?
Were there special people you met during this experience? How will you appreciate them and the impact they've made on you?
Review our learning objectives. In what areas would you say you've developed? In what areas do you feel like you still like to grow?
Reflect and offer your thoughts on how the community partnership projects contributed to your understanding of conservation, culture, tradition, social expression, and/or community.
How has this experience affected any personal or professional goals you've set for yourself?
2017 Alternative Break Syllabus-Itinerary-FAQs
For more information, please contact:
Ashley L. Joseph
Programs Coordinator
Associated Students, Incorporated | California State University, Los Angeles
(323) 343-4784 - direct line | | www.calstatela.edu/asi
Marcus A. Rodriguez
Director of Government Affairs & Leadership Programs
Associated Students, Incorporated | California State University, Los Angeles
(323) 343-4785 - direct line | | www.calstatela.edu/asi
---