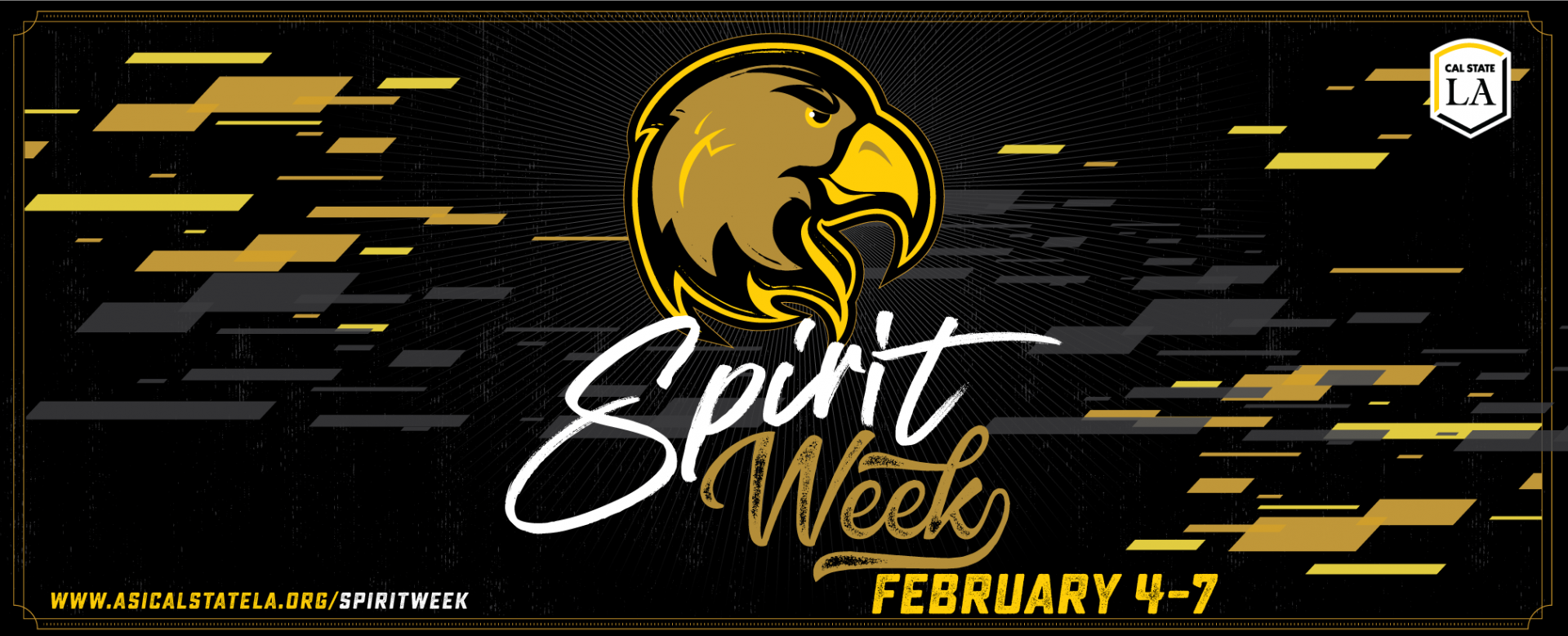 Show your Golden Eagle Pride! Special prize drawings and giveaways will be featured at every event for students wearing Cal State LA gear.
2019 CONTEST WINNERS:
Office Decorating Contest:

Center for Engagement, Service and the Public Good

Raul Henderson Spirit Scholarship:

Jonathan Aguilar
Omar Cojulun
Anthony Karambelas
Ugbad Farah

Dodgeball Tournament:

1st Place - Baldelomar
2nd Place - Overtime
3rd Place - Last Samurai
---
Raul Henderson Spirit Scholarship
Applications are available now and due on Thursday, January 31
ASI Administration Office, Room 203, University-Student Union
Four (4) $500 awards will be given to one graduate student and three undergraduates students that best exemplify Henderson's vision, spirit and sevice to the community. To apply, visit: www.asicalstatela.org/scholarship
Monday, February 4 -Thursday, February 7 | Office Decorating Contest
Show your office spirit by decorating it in celebration of Homecoming. First place winners get lunch catered by the University Club at their next staff meeting. To register, CLICK HERE. Deadline to register is Tuesday, February 5 at 5 pm.
Monday, February 4 | Seventh Annual "Bleed Gold" Dodgeball Tournament
9 p.m. • University Gym
REGISTRATION FOR 2019 TEAMS IS NOW CLOSED. Cash prizes will be awarded to the top three teams ($500, $300 and $200 respectively). Pull your team together because available slots fill quickly! For rules and regulations, safety provisions, and to sign up, visit www.asicalstatela.org/dodgeball
Wednesday, February 6 | 19th Annual Cal State LA Bowl Out!
Housing Resident Appreciation Night
9 p.m. • Golden Mile Bowling, 1400 East Valley Blvd.
We're taking over the Golden Mile Bowling Lanes! The night is free to all Cal State LA students and special prizes will be awarded to all students dressed in their Golden Eagle BLACK and GOLD.
Thursday, February 7 | Homecoming Game: Cal State LA vs. East Bay
4:30 p.m. • University Gym
Show your Golden Eagle spirit at Homecoming 2019! With free food, prize drawings, big giveaways and live performances, the gym will transform into a large-scale spirit station. The women's game begins at 5:30 p.m. and the men's starts at 7:30 p.m.