A.S.I. Alternative Break Service Learning Projects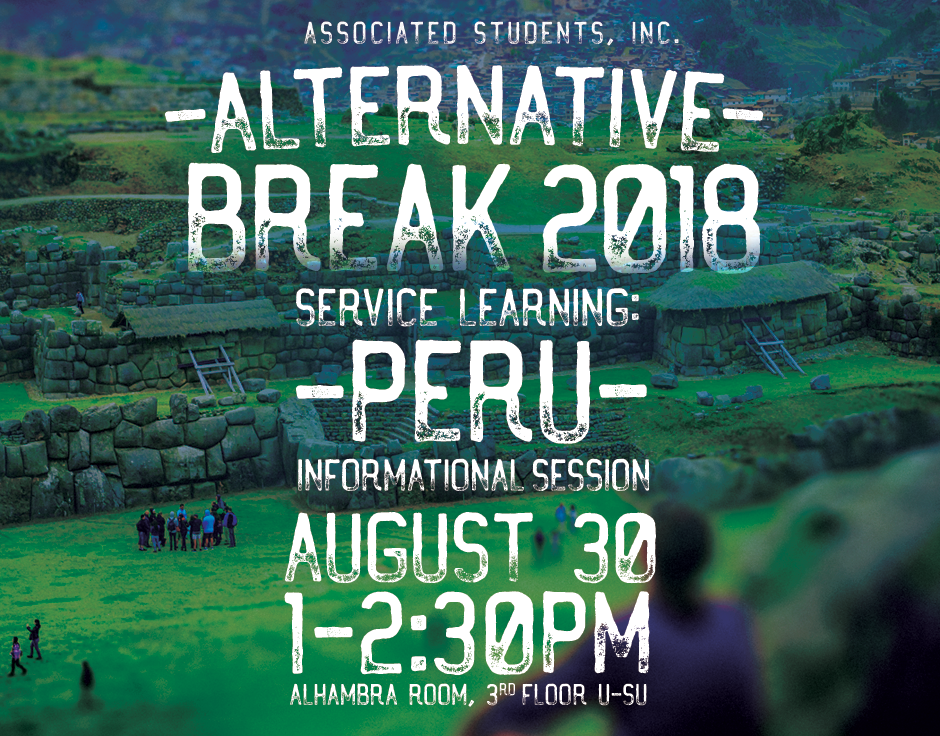 Wednesday, August 30 - 1:00 to 2:30pm
Alhambra Room 3rd Floor, University-Student Union
In partnership with EF Tours, A.S.I. is excited to offer you an amazing opportunity to travel with us on the Alternative Break Service Learning Trip to Peru in May/June 2018. We will explore Peru while completing service learning projects throughout our 10 day excursion and are looking for enthusiastic students to become global citizens for change. During the informational we will review the application process, itinerary, and pricing. This service trip is only open to current Cal State LA students. For more information, contact Ashley Josephy at
Learning Outcomes
Learn to access humanitarian values (e.g. using social justice rhetoric, understanding personal and social responsibility, and serving as positive social change agents)
Explore the dimensions of difference in communities
Engage with the local Los Angeles community in appreciation of civic duty
Gain knowledge about new cultures and the natural world
Through transformative learning and engagement, students will experience expanded viewpoints, diminished fear and increased openness. This course allows participants to take chances, tolerate ambiguity, see connections and develop relationships across boundaries.
---
Introducing the Social Change Model as a component of our community impact and experiential learning curriculum, the ASI Alternative Break Service Learning Project, as a part of a larger leadership paradigm, commits to the holistic development of students. While participating in inquiry-guided learning, students contemplate the true nature of service while building character and leadership skills at home and abroad.
This year's project will focuses on eco-tourism, development, and cultural preservation throughout Peru and in the villages surrounding Lake Titicaca. Students will dialogue about the complex factors affecting these issues and current societal solutions. The goal is to think critically about problem solving with an emphasis on self-reflection. Monthly participant meetings, starting in Fall 2017, will focus on the principles of partnership, equity, accountability, and ownership. Students will discuss culturally sensitive and empowering service frameworks then, using cultural immersion techniques, will join local villagers to embark on a meaningful project that should give them a new sense of self and servant leadership.
The ASI Alternative Break Summer Service Learning Project affects development in three areas: Cognitive Development (head), Reflection/Meaning Making (heart), and Acts/Engagement (hands).
For more information, please contact:
Ashley L. Joseph
Programs Coordinator
Associated Students, Incorporated | California State University, Los Angeles
(323) 343-4784 - direct line | | www.calstatela.edu/asi
Marcus A. Rodriguez
Director of Government Affairs & Leadership Programs
Associated Students, Incorporated | California State University, Los Angeles
(323) 343-4785 - direct line | | www.calstatela.edu/asi
---