Date / Time:
Saturday, September 1, 2018 - 8:00am
to
Wednesday, October 31, 2018 - 5:00pm
Location:
ASI Administration Office 203, University-Student Union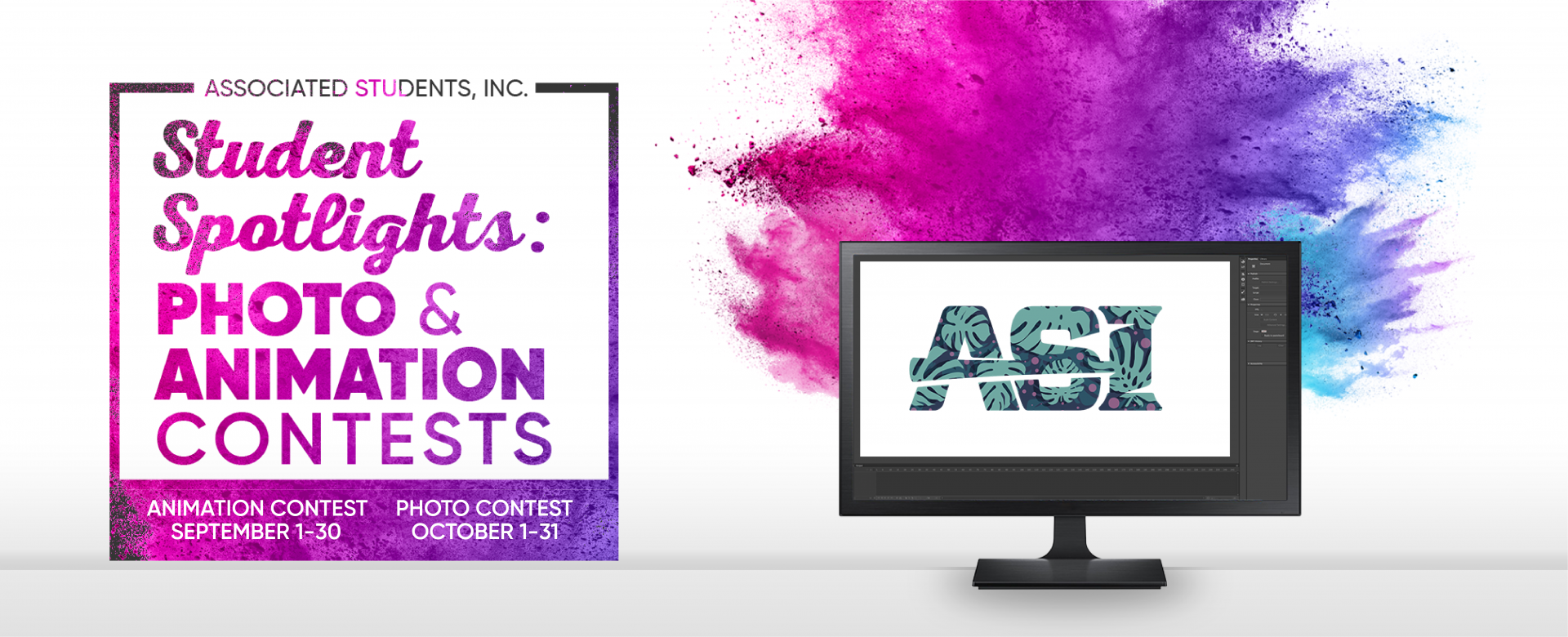 The ASI Public Relations and Marketing Commissioner is hosting two separate competitions this semester. The first, ASI Animation Project (September-October 12), asks students to interact with the ASI logo in new and dynamic ways; while the second, ASI Photography Contest (October), will focus on capturing student involvement on campus. Both contests offer students a platform to showcase their unique abilities and artistic sensibilities. Cash prizes will be offered to the top three projects in each category. For more information, email:
---
This animation logo competition is an opportunity for Cal State LA students to showcase their talents and creativity. Applicants must feature and play around with the new ASI Logo within their animation videos. Applicants are also encouraged to get creative and develop unique original content.
Rules and Procedures:
Animation videos must be between a minimum of 30 seconds and a maximum of 3 minutes. Please use the high resolution ASI Logo at the bottom of this page.
All entries must be submitted between September 1st and September 28th. To enter, a link to your project must be sent to:
The entry email should be accompanied by your name and contact information.
Submission dates may be extended depending on the volume of entries.
All forms of animation will be accepted.
Students will be judged on originality, use of the ASI logo, and overall creativity.
This contest will be judged by ASI student leaders.
The top three (3) competitors will receive VISA gift card prizes for: 1st Place - $300, 2nd Place - $200, and 3rd Place - $100.
The contest is open to all currently enrolled students in good standing at Cal State LA.
All entries must be original creations of the contestant, incorporate the ASI logo, have never been published, and does not contain profanity, trademarks, or copyrighted works of any other person or business.
Winners will be announced in mid-October.
As this contest is subject to all federal, state and local laws, contestants must review and accept the following.
Contestants confirm that each entry is their own original creation and not a copy anyone else's work. If it is found that a contestant has not met this expectation, they agree to return any contest award.
ASI reserves the right to terminate this contest at any time, effective on the date of issuing the termination notice, and we are under no obligation to give notice prior to the date of termination.
All contestants agree to defend, indemnify and hold harmless ASI, Cal State LA, the California State University, the California State University Trustees, and their respective officers, directors, employees, suppliers, licensors, contractors and agents against and from any loss, debt, liability, damage, obligation, claim, demand, judgment or settlement of any nature or kind, known or unknown, liquidated or unliquidated, including without limitation, all reasonable costs and expenses incurred including all reasonable litigation costs and attorneys' fees arising out of or relating to claims, complaint, action, proceeding or suit of a third party, that arise or relate in whole or part to the contestant's entry.
Contestants authorize the use, by ASI, without additional compensation, of their name and submitted project for promotional purposes in any manner and in any medium (including without limitation the internet, written or email communications, brochures, videos, slides, radio, television, film) that ASI deems appropriate.
Any and all rights to the intellectual property of the entry will belong to ASI.
Contestants agree that by submitting an entry, they acknowledge, accept and understand the complete contest rules, including that the winning design is the property of ASI.
If you have any questions or concerns, please email Jourdan Pineda, ASI Public Relations & Marketing Commissioner, at:
High Resolution Logos
ASI High Res PNG below.
Last modified on November 18, 2021