Cal State LA is home to over 100+ student organizations that represent academic, cultural, political, professional, service, social, spiritual, and recreational interests.
Click Below to find out more about how to get involved or start your own club or call their office at 323-343-5110.
Center for Student Involvement
All recognized clubs and organizations are eligible to receive funding for new or annual programs. To access these funds, a representative from your organization must attend a Mandatory Funding Workshop to learn about ASI funding policies and expectations.
Click below to learn more:
For more information, contact the ASI Vice President for Finance Aaron Castaneda at (323) 343-4778 or email .
University & CSI Forms and ASI LOGO can be downloaded from below:
Student Clubs and Organizations Funding: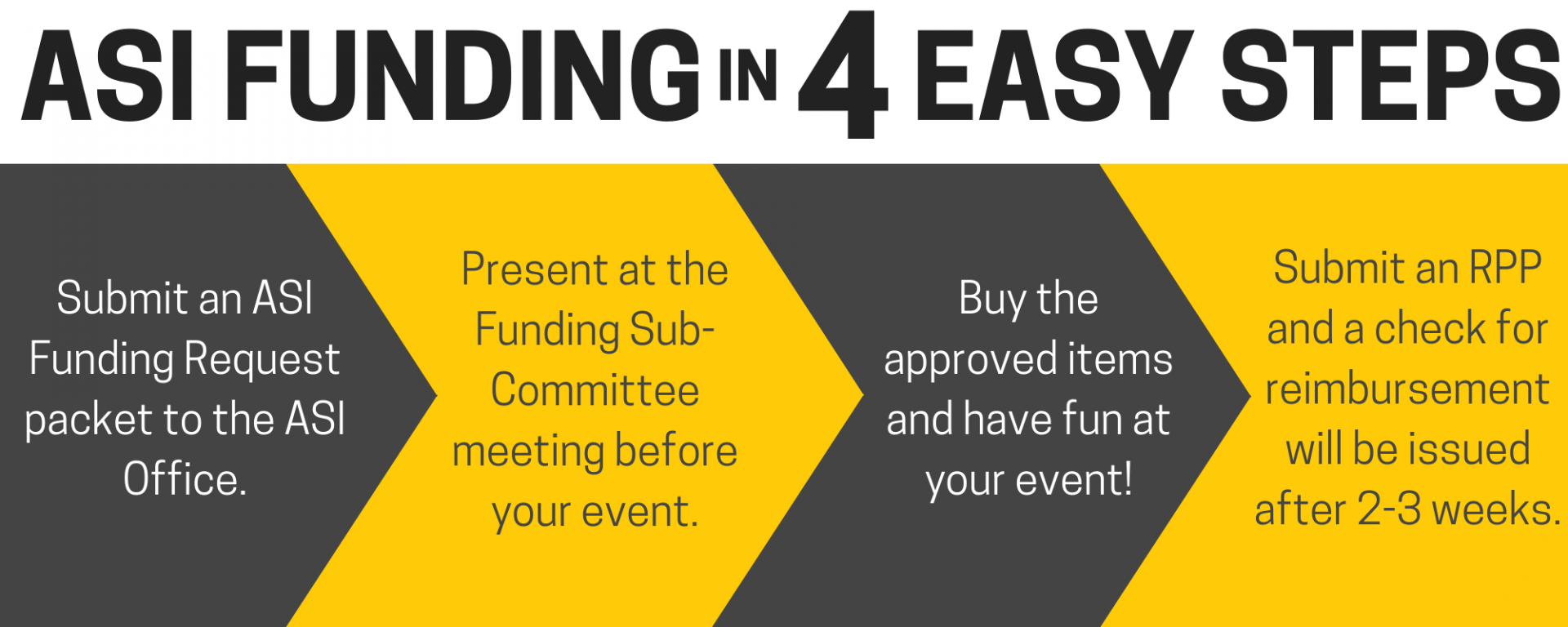 Student clubs and organizations can request funding from Associated Students, Inc. on a first come, first served basis. Submit the proper forms by noon the Monday before a Finance Committee meeting.
Click below to learn more about Finance Committee:
The Finance Committee is chaired by the Vice President for Finance. The committee meets to analyze all budget requests and decides on funding allocations. They meet on alternate Fridays at noon. Please check the meeting calendar for details. Everyone is welcome to attend the Finance Committee meetings. For any other questions contact the Vice President for Finance by calling 323-343-4778.
We want to make paperwork simple for you and your student club and organization, so you can complete the necessary forms correctly the first time, and so that you will be free to get involved in your student organization's activities. We want to minimize frustration if not eliminate it altogether.
Steps to apply for ASI funding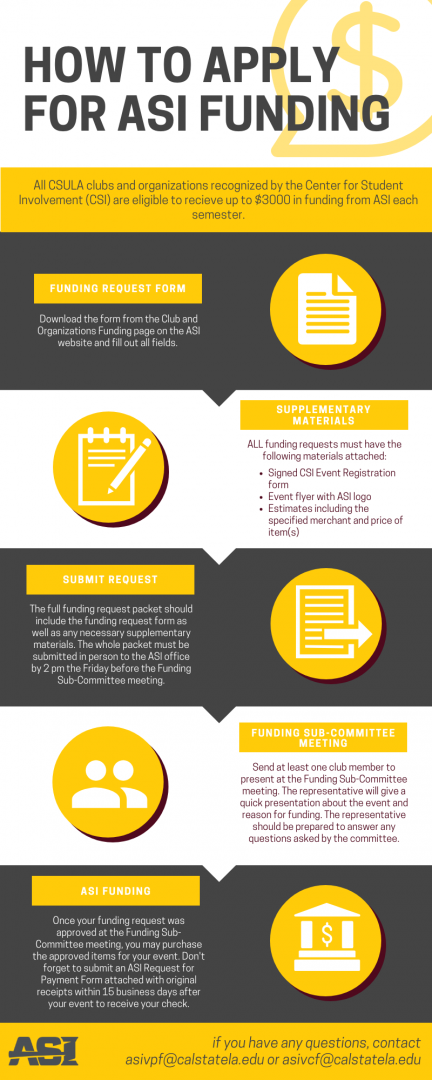 Click below to download Funding Request Forms or the Request for Payment Forms:
ASI Funding Guidelines - Policy 204
ASI Direct Funding Allocation Guidelines
ASI Policy 226 - Funding Sub-Committee Code of Procedure
ASI Academic/Student Organization Travel - Policy 213
The following documents are for 2018-19 Fiscal Year Only. Funding will not be available until the first day of the spring semester.
Multiple Club & Organization Funding Request Forms
2018-19 Multiple Club & Org Request for Funding Form and Co-sponsor Agreement

ASI 2018-19 Multiple Club Org. Funding Request Form and Instructions 11

2018-19 Club & Org Request for Payment and Evaluation Form

2018-19 Multiple Club Org Request for Payment and Evaluation

External Organizations & Departments

ASI currently offers university support funds to Anna Bing Arnold Children's Center, EOP (Educational Opportunity Program), Golden Eagle Radio, EPIC (Educational Participation in Communities), Dreamers Center, U-Pass Metro Program, and Veterans Resource Center.
Click below to learn out more about the Funding and Budgeting for External Organizations & Departments over $3,000 here.