SPIRIT WEEK 2017
Represent and show your Eagle Pride! Special prize drawings and instant giveaways will be a featured at every event for students wearing CAL State LA gear. Those attending Thursday night's Golden Eagles Basketball games will be eligible for specialty giveaways and commemorative souvenirs and who bring a donation to any event for the SAAC Food Drive wii be entered to win an exclusive prize.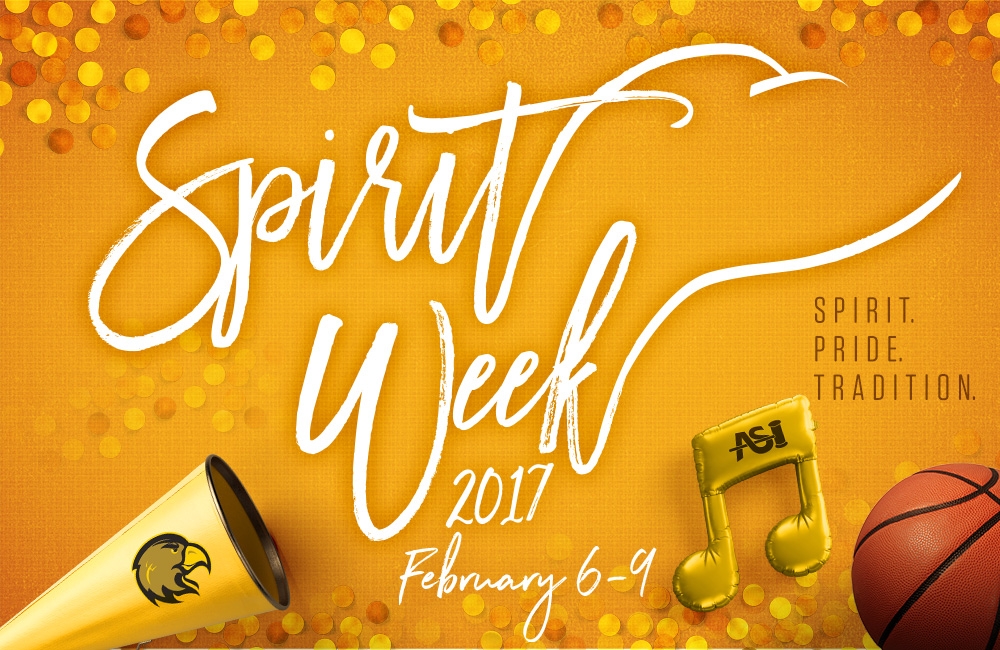 ---
RAUL HENDERSON SPIRIT SCHOLARSHIP
Applications Available
Tuesday, January 10th
A.S.I. Administration Office Room 203, U-SU
To commemorate the many years Mr. Raul Henderson devoted to the Cal State LA community, this distinguished scholarship was created. Four (4) $1,000 awards will be given to one graduate and three undergraduate students that best exemplify Henderson's vision, spirit and devoted time to educationally meaningful activiites. The applicants will be judged on scholastics achievement, campus contributions, community involvement/philanthropy and a written essay. For more information and to download an application -> Click Here .
CONGRATULATIONS TO THIS YEAR'S WINNERS:
UNDERGRADUATE: Ella Baxter, Wendy Layco, and Anthony Robles
GRADUATE: Odeniyi Omolola Nkemakolam
---
OFFICE DECORATING CONTEST
Monday, February 6 - Thursday, February 9
Campus Wide
During Spirit Week 2017, show off your office by decorating it in the Golden Eagle Spirit and/or Spirit Week theme! The first place winners get free lunch catered by the University Club at their next staff meeting. Contestants are encouraged to maintain their decorations throughout the week, as judging will take place on Thursday, February 9th. For registration CLICK HERE or call the A.S.I. Administration Office at (323) 343-4778
CONGRATULATIONS TO THIS YEAR'S WINNERS:
DEPARTMENT: New Student and Parent Programs
---
5TH ANNUAL "BLEED GOLD" DODGEBALL TOURNAMENT
When: Monday, February 6th
Time: 9pm
Where: Eagles Nest Gym
There will be cash prizes awarded to the three top teams at pur annual 6-on-6 dodgeball tournament. Pull your team together because available slots fill quickly! Also, spectators will be be provided snacks, drinks, and Cal State LA spirit giveaways through the duration of the event. For rules and regulations, safety provisions, and to signup Click here .
CONGRATULATIONS TO THIS YEAR'S WINNERS:
1ST PLACE: TEAM JULIO
2ND PLACE: TEAM FREDDY
3RD PLACE: ZBT
---
17th ANNUAL CAL STATE LA BOWL OUT
When: Wednesday, February 8th
Time: 9pm - 1am
Where: Golden Mile Bowling, 1400 East Valley Blvd.
"Shake, Rattle and Bowl!" once again we're taking over the Golden Mile Bowling Lanes! The night is FREE to all Cal State LA students with special prizes awarded to all students dressed in their "Eagle Pride" BLACK and GOLD.
---
CSI PRESENTS: 2ND ANNUAL 3K
When: Wednesday, February 8th
Time: 2pm
Where: U-SU Plaza
Show your campus spirit and pride and be part of the Golden Eagle Pride 3k Run/Walk! Join forces with our student athletes on their effort to collect 5,000 canned food items to support the LA Regional Food Bank. For more information and to sign up visit CSI, U-SU Room 204.
---
HOMECOMING TAILGATE
GOLDEN EAGLES VS. CAL STATE SAN BERNARDINO
When: Thursday, February 9th
Time: Women's Game - 5.30pm
Men's Game - 7.30pm
Where: Eagle Nest Gym.
This is the big event! With big prizes drawings, massive giveaways, and live performances, the gym transforms into a large-scale spirit station.